Grow Your MSP's Security Business with a Breach Prevention Platform
Discover how ThreatAdvice helps MSPs and MSSPs secure their customers and enhance your security offering.
Detect IT
Continuous vulnerability scanning that protects your clients
Manage IT
World-class management and reporting tools with over 65 pre-written policies
Learn IT
Significantly reduce human cyber risks with a security awareness program
Reward IT
Gamified security training and leaderboards boost engagement
The ThreatAdvice Breach Prevention Platform
Our world-class platform is designed specifically to empower MSPs to provide and oversee customer cybersecurity in 5 areas: Detect IT, Manage IT, Learn IT, Reward IT, and Protect IT. Click here to download the digital brochure.
Centralized Risk Management
The ThreatAdvice Breach Prevention Platform is a comprehensive solution that an MSP should utilize to manage clients' cybersecurity efficiently and effectively. It combines a variety of proven tools, proprietary management software, and cyber expertise that simplify cyber security management for MSPs. With one login for all cybersecurity tools, it's the cyber management solution you've been looking for.
The Ultimate Security Stack
The ultimate cybersecurity stack can review an environment's current state, helping you provide information to your client on the true state of their systems. It also allows you to effectively manage this revised state on an ongoing basis, brings in the human element to make sure people aren't the cause of an issue, and it provides protection for you, the MSP, to make sure that if there ever is a breach, you have the ability to bring them back to the point before the incident without worry that you'll be paid for the recovery service in a timely manner. Finally, it gives you the ability to be transparent with your clients, showing them the ongoing status of their environment, how you're helping them, building trust, stickiness and other revenue growth opportunities. These are the principles the ThreatAdvice Breach Prevention Platform was built upon.
The ThreatAdvice Breach Prevention Platform was designed to be added on to your current security stack, serve as the base for your security stack, or a replacement for current solutions. ThreatAdvice offers tiered and flexible pricing with no published MSRP, empowering you to price the solution how it best works for your business. Pricing is all inclusive and includes all features and upgrades. ThreatAdvice Breach Prevention Platform can be white labeled for branding purposes, and you have complete control over the program's administration, creating trust, stickiness, and the opportunity for remediation services.
We handle the client directly

We engage and manage the client

You are invited to all meetings or overviews if desired

We provide all hardware needed, scans, reporting,

vCISO

assistance

Deliver SIEM, SOC, EDR if needed

Flat Rate Commission to you of 10%

as long as

they are a client
Ready to Partner?
No problem! Fill out our Master Services Agreement to get started.
The ThreatAdvice Breach Prevention Platform
Detect IT
Continuous vulnerability scanning including, internal, external and asset identification.
Full reporting against NIST based standards, providing HIGH, MEDIUM and LOW risk categories. Remediation guidance also included.
Ability to assign tasks to team members based on their role via the system for follow up and resolution.
Reward IT
Gamification: End-users earn points and badges for taking classes, answering cyber questions, and more.
Collect points to earn rewards.
Company leaderboards boost engagement.
Manage IT
Management dashboard
Over 65 pre-written policies with
built-in electronic policy acceptance
Fully customized reporting on each account showing the overall vulnerability score
Worldwide Threat Intelligence: Major cybersecurity headlines gathered in one place by topic
Vendor Intelligence (customized based on the vendors you use, information on all known issues, patch availability, etc.)
Integrations with major vendors bringing threat knowledge into one central location. Current pre-built integrations include:

Cylance
SentinelOne
Alienvault
CISCO Umbrella
Carbon Black
CISCO Meraki
Beachhead
Perch
RFT
HIPAA SRA
Learn IT
Security Awareness Training: Ongoing cybersecurity education consisting of hundreds of courses covering all areas of cybersecurity with 8 new courses released monthly. Delivery of course assignments is customizable based on your needs and your client's desires. Standard reports are available to track and document the employee's education status, and custom report creation is available for tracking compliance.
Phishing: With unlimited phishing campaigns you can put what users have learned to a real-world test and generate data that is incorporated into an individual employee risk level scorecard.
Ready to scale and grow your cybersecurity offering?
Fill out the form, and we'll be in touch.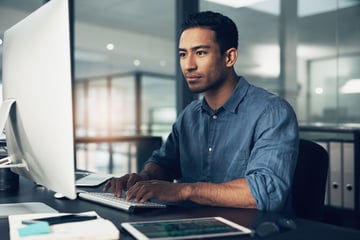 As technology evolves and advances, our reliance on it grows ever stronger. As most of our day-to-day business operations are online or accessed through digital tools, it is vital to be more vigilant ...