About Us
Meet the Executive Team
Let's Connect
Let's talk about cybersecurity and technology and how ThreatAdvice can help protect and power your success.
Russell Taylor
President
Mr. Taylor is President of ThreatAdvice. He brings 25+ years of experience in the Fintech and Banking Industries. He specializes in creating & transforming business strategy into financial and operational results, including building high performing teams to launch and grow new technology products. He has driven success in both developed and emerging markets globally, with a proven record in accelerating growth and enhancing customer value. Russell has previously served as SAP Vice President for Financial Service and Healthcare, TEMENOS President of North America, and Software Group Chief Commercial Officer.Russell has done business and travelled to over 100 countries. He completed his business studies at the University of Stellenbosch Graduate School of Business.
Chris Sherman
Chief Financial Officer
Mr. Sherman is Chief Financial Officer of ThreatAdvice. He has over 20 years of progressive experience in finance and operations. He has worked with growth focused companies of all sizes, ranging from startups up to publicly traded multi-national companies. His progressive roles have included responsibilities for accounting, finance, G&A, M&A, and operations. Mr. Sherman lives in Lakeland, Fl with his wife and two daughters. He enjoys golfing and all things football. He has a BS, MS, and PhD in Accounting that allow him the opportunity to give back to the community by teaching at a local college.
Terry Ray
Chief Technology Officer
Mr. Ray is a technology executive with more than two decades experience developing innovative software solutions for banks and credit unions. Mr. Ray has held leadership roles with several Birmingham fintech startups including SBS Corporation, Brasfield Technologies, TriNovus, Springhouse Digital as well as banking technology companies Metavante (now FIS) and Temenos, and brings a long track record of success in software product engineering. Mr. Ray holds a Bachelor of Electrical Engineering degree from Auburn University. He lives in Birmingham with his family and enjoys playing guitar and volunteering as a Computer Science teacher with TEALS.
Karly Field
Chief Marketing Officer
Karly Field is the Chief Marketing Officer for ThreatAdvice. Ms. Field has over 25 years of marketing experience in the technology sector. She previously served as the CMO of NXTsoft a Fintech company that delivered API connectivity solutions and marketing director of TriNovus, LLC a Fintech company focused on compliance. Prior to that Ms. Field served as vice president of marketing for Brasfield Technology that was acquired by Metavante and SBS Corporation where she was responsible for coordinating all marketing strategies for the company. Ms. Field graduated magna cum laude from the University of Alabama with a degree in journalism and a masters of library science.
Jay Fitzpatrick
SVP, Operations
Mr. Fitzpatrick serves as regional vice president of ThreatAdvice. He founded Digital Data Solutions, a managed services provider established 2003, and served as president for fifteen years prior to the company's acquisition by the ThreatAdvice brand. Previously he was a manager of information systems for Mostellar Medical Center, a community health center. Fitzpatrick has a bachelor's finance with a minor in computer science from the University of Alabama.
William Hale
SVP Product Management & Cybersecurity
Mr. Hale is a cybersecurity professional with over 20 years of experience. He started his cybersecurity career in the early 2000s providing information assurance for the Department of Defense. He has consulted for and led information security programs for organizations in many different industries, including finance, healthcare, and education. Over the years, William has worked with a wide range of technologies and leverages his knowledge and experience to provide insights, solutions, and recommendations that help businesses achieve their goals.
Starr Largin
SVP Sales
Ms. Largin serves as SVP of Sales for ThreatAdvice. Ms. Largin has an extensive background in banking and in technology. During her 28-year banking career she served in senior management with a primary focus in the lending area, including stress testing, allowance for loan losses and auditing. In 2010 Ms. Largin left banking and began working in sales and product management for TriNovus, a technology company providing software and services to financial institutions In 2017, she co-founded Springhouse Digital, LLC. a fintech company focused on compliance solutions.
Lee Smith
Director of Engineering
Mr. Smith serves as Director of Engineering for ThreatAdvice. Prior to joining ThreatAdvice, he co-founded Springhouse Digital, LLC, a company focused on providing compliance solutions to banks and credit unions. His 20 year career has been primarily focused on the financial institution technology space, developing internet and telephone banking applications as well as compliance and regulatory solutions. Mr. Smith holds a bachelor's degree in Computer Engineering from Auburn University.
Industries We Serve
Find Your Solution
Security and technology are never one-size-fits-all, which is why ThreatAdvice has industry-specific solutions and packages to best fit your organization.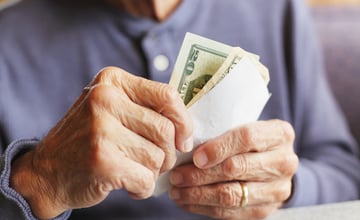 Elder fraud, also known as senior fraud or elder financial abuse, is indeed a concerning issue that has been growing rapidly in recent years. Elderly individuals are often targeted by scammers and fra...