Cybersecurity for Government Contractors
ThreatAdvice can help government contractors defend against cyberattacks.
Having sufficient cybersecurity protocols is vital for organizations like government contractors as lack of cybersecurity can lead to loss of over decades long contracts and principal government data breaches.
In the modern world, every industry needs to have cybersecurity precautions in place. This is no different for government contractors. Like all other businesses, government contractors are a target of cyber-attacks. A cyber attack that leads to a breach can lead to physical damage, downtime, and loss of important data. Poor cybersecurity practices can even lead to the dissolution of a contract.
Focus to cybersecurity significance has been shifted in today's cyber climate. Protecting government contractors from cyberattacks is vital as attacks are launched all the time and the entity can be breached by something as simple as an unsuspecting employee clicking a malicious link in an email.
Employee knowledge of cybersecurity basics is pivotal in successfully guarding government contractors from attacks and ThreatAdvice Educate offers innovative cyber education and awareness solutions to match the needs of the governmental industry. ThreatAdvice's customizable policies and procedures regarding cybersecurity processes can be a comprehensive cybersecurity solution for government contractors.
ThreatAdvice vCISO also acts as an overarching cybersecurity plan to take out the worry of cybersecurity policies and procedures for government contractors. A Virtual Chief Information Officer oversees cybersecurity throughout for your company and alerts you of any issues. Using a comprehensive cybersecurity solution like ThreatAdvice will prepare government contractors to successfully defend their business against cyber-attacks and keep contracts and data safe.
Watch the Video
Watch our video on how the ThreatAdvice can help protect your data.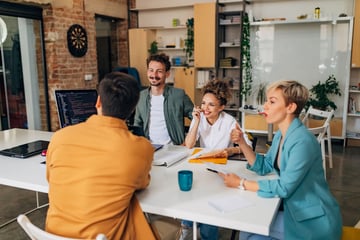 Digital boundaries are ceaselessly tested by a multitude of cyber threats, all posing serious risk to business operations, intellectual property, sensitive client information, and much more. These dan...