Cybersecurity for Healthcare
Learn how ThreatAdvice can help protect your hospital, pharmacy, office, or practice.
According to Forbes, healthcare companies continually top the list as the most cyber-attacked industry. As the healthcare space continues to digitize all of its vast amounts of information, it remains an increasingly attractive target for cybercriminals.
Cybersecurity in a healthcare setting presents challenges, unlike other business environments. The highly sensitive nature of healthcare records makes them a particularly attractive target for cybercriminals, and a breach of healthcare records can pose a significant risk to your enterprise. A single cybersecurity threat in a healthcare enterprise can have an escalating impact that reaches across the entire organization including administration, healthcare staff, and patients.

As healthcare networks become more distributed so that a comprehensive patient overview is available to all providers, cybercriminals have a myriad of entry points into healthcare systems.

This not only includes clinics and doctor's offices but also areas such as Internet-based consulting with remote healthcare providers and with providers relying heavily on information sharing across disparate users and departments while patients and guests continue to demand instant access to medical information and scheduling.

Medical records command top dollar on the black market because they contain an extensive amount of personal identifying information which can be used to open fake accounts, commit fraud, or even for blackmail. And unfortunately, medical identity fraud takes longer to detect than other types of fraud, therefore the damage that could easily become extensive and unsalvageable before it is discovered. If a health-related company does not do an excellent job at protecting this information, they can be hit with regulatory fines, be sued by its patients, and also incur many other reputational and monetary costs that come with breaches.
Experts recommend that healthcare organizations need to prioritize patching using threat intelligence and automation as well as implement cyber awareness training programs to protect against social engineering and other attack vectors. ThreatAdvice can help with both!

Our IntelliSense threat intelligence solution in the ThreatAdvice Breach Prevention Platform helps healthcare organizations quickly assess risk and prioritize threats that matter to your specific hospital or practice. With the intelligence you receive from IntelliSense, you will be able to move from anticipation to action, armed with the information you need to proactively protect your organization from potential cyber threats.

And, whether you are a doctor, a P.A., an R.N., or fill up the medical supplies cabinets—everyone needs to thoroughly understand and abide by the best cyber practices. ThreatAdvice can help you answer the question of how to keep your hospital, pharmacy, office, or practice safe from cybercriminals. One of the main ways to protect your data and your business reputation is to provide cybersecurity education and cyber awareness for all employees. Everyone from your receptionist to your most seasoned medical professional should complete cybersecurity education and awareness training to mount an educated and defensive response to cybercriminals. Plus, ThreatAdvice makes cybersecurity education fun with our built-in trivia application, NxtQ, where employees can earn coins to cash in for prizes and gift cards available in the ThreatAdvice marketplace.
Watch the Video
Famed FBI consultant Frank Abagnale shares why businesses in the healthcare industry need a robust cybersecurity plan with modern threat protection.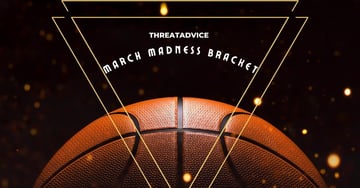 At ThreatAdvice, we love cybersecurity, but we love basketball too! We hope you will play along with us in our ThreatAdvice March Madness Bracket. The first place finisher wins a $100 Amazon Gift Card...