ThreatAdvice Managed Security Services
24/7 live security monitoring, always-on threat coverage, pen testing, vulnerability scans and more
ThreatAdvice MSSP Services
24/7 SOC Services
Advanced security operations center, staffed 24/7 with experienced security analysts, means that you can be confident in your security without relying on in-house security expertise. The ThreatAdvice SOC analyzes quarantined security alerts, reduces false positives and ensures comprehensive protection. Let us take care of cybersecurity while you focus on your business.
Always-On Threat Coverage
Our advanced technology help with the detection of all known and unknown (zero-day) threats leveraging the latest behavior-based technology, threat identification and remediation technology regardless of where your endpoints are deployed (office, home, hotel, coffee shop, etc.).
Pen Testing
Penetration testing is a security exercise where a cyber-security expert attempts to find and exploit vulnerabilities in a computer system. The purpose of this simulated attack is to identify any weak spots in a system's defenses which attackers could take advantage of. This is like a bank hiring someone to dress as a burglar and try to break into their building and gain access to the vault. If the 'burglar' succeeds and gets into the bank or the vault, the bank will gain valuable information on how they need to tighten their security measures.
Internal/External Vulnerability Scans
A ThreatAdvice cybersecurity expert performs Internal and External Vulnerability Scans monthly to identify security exposures before attackers find them. You will receive two monthly reports. Cyber Director, a high level report for your senior management team/board of directors providing broad insight into the current posture of systems found on your network. The Technical Details report provides more detailed information on each vulnerability such as a description, solution, infected area, corrective action feature, etc.
Risk Assessment
We perform a detailed audit of your network and IT systems, comparing against industry best practices, using our tools to identify potential security gaps and make recommendations to secure and improve your IT systems. We will then deliver expert findings for you and your stakeholders that includes unbiased reporting of your current network environment and IT security. We can also help your business determine the best course of action to take depending on what the assessment uncovers.
Threat & Patch Management

- Best for clients who have IT Manager/Staff
- Standard & Secure Options
- Includes:
24/7/365 SOC as a Service

SOC Managed Next Generation SIEM (Secure Only)

SOC Managed Endpoint Detection & Response (EDR)

SentinelOne Complete Endpoint Protection Platform (EPP)

Server/Workstation Windows Patch Management

Server/Workstation Remote Control

Per User
Managed User

- Full service managed client
- Standard & Secure Options
- Includes:
Unlimited Remote Support

24/7/365 SOC as a Service

SOC Managed Next Generation SIEM (Secure Only)

SOC Managed Endpoint Detection & Response (EDR)

SentinelOne Complete Endpoint Protection Platform (EPP)

Server/Cloud/SaaS Monitoring & Management

Workstation Monitoring & Management

Patch Management

Microsoft 365 Management

Email Security Services Management

Vendor Management

Technology Procurement

Best Practices Architecture/Design

Reporting and Business Reviews

Technology Roadmaps
Managed Endpoint Detection & Response
- SOC Managed Endpoint Detection & Response (EDR)
5 US Based Geo Located SOCs

160+ Security Engineers

24/7/365
- Endpoint Protection Platform (EPP)
Control

Complete (Does not include Threat Hunting)

Singularity EPP+EDR Data sheet
Managed Next Generation SIEM
- Click here to read our guide on What is a SIEM?
- SOC Managed Security Information & Event Management (SIEM)
5 US Based Geo Located SOCs

160+ Security Engineers

24/7/365
- Perch SIEM Platform
Log and alerts ingestion and analysis

Cloud Integrations

Microsoft 365/Google Workspace

SentinelOne, Carbon Black, Microsoft Defender & many more

Cisco, WatchGuard, Palo Alto, Fortinet, Sophos & many more
Continuous Vulnerability Scanning
- Included with our Breach Prevention Platform
- New Device Alerts
- Dynamic Asset Discovery
- Reporting
- Per Asset
- Multiple Security Feeds
General

CIS OVAL Repo

NIST NCP

Joval/Arctic Wolf


Vendor Specific

Ubuntu

Debian

Red Hat/CentOS

OpenSUSE

Apple, Cisco, VMware


Microsoft – Microsoft Secure Baselines
Automated External Penetration Testing
- Monthly Scans
- Intelligence Gathering
- Threat Modeling
- Vulnerability Analysis
- Perform Exploitation
- Post-Exploitation
- Timely Reporting
- Quarterly PenTest Review


* Internal penetration coming soon
Cutting-Edge and Compliant
Next-Generation Endpoint Security: ThreatAdvice SIEM provides malware and threat detection. Using multiple AI engines, providing complete visibility into all activity and even rolling back threats with a single agent.
Compliance: With continuous monitoring by our ThreatAdvice SIEM and 24/7 SOC of all of your information systems and network devices, you can easily prove compliance with multiple regulatory frameworks; FFIEC, HIPAA, NIST, etc.
ThreatAdvice SIEM Techology: Monitor key log files to identify and correlate events that could be malicious. ThreatAdvice is powered by an established tracking platform. We've combined this innovative technology with our skilled and experienced cybersecurity experts to deliver a comprehensive solution for your business.
Ensure You're Properly Managing Third Party Vendor Risk
Use our free tool to better understand the environment and structure of your mission critical and major vendors.
1
NextGen Endpoint Detection & Response Layer
Install dedicated, secure sensor to get started

No special hardware or software required

Supports multiple log formats from over 2,200 devices
Billions of logs via secure and encrypted transmission

Collect and store logs securely for 400 days

Automatic review of log data and behavior analysis

High-speed searches or use pre-built queries
Managed global threat intelligence

Data is correlated with our threat intel including 50+ feeds

Real-time threat detection and alerts

Enterprise and global whitelisting and blacklisting
Security Operations Center

24/7 monitoring and analysis of alerts

Terminate attacks in real-time

Compliance assistance

Weekly critical observations report with remediation advice
Request a Security Services Demo
At ThreatAdvice, we know effective cybersecurity isn't one-size-fits all. Not sure where to start? Tell us a bit about your company so we can schedule a custom services demo that meets your security needs. Fill out the form below, and we'll be in touch shortly!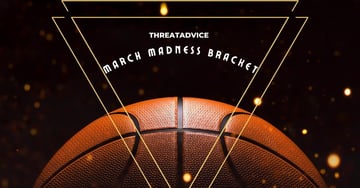 At ThreatAdvice, we love cybersecurity, but we love basketball too! We hope you will play along with us in our ThreatAdvice March Madness Bracket. The first place finisher wins a $100 Amazon Gift Card...