ThreatAdvice Continuous Vulnerability Scans
Including internal, external, and asset identification
The ThreatAdvice Breach Prevention Platform
Continuous vulnerability scanning is included in the ThreatAdvice Breach Prevention Platform, our flagship solution for comprehensive cybersecurity management.
The ThreatAdvice DETECT IT module provides you the ability to assess an environment. This is critical as it tells you what is happening now, where the potential pitfalls are and where you are exposed. We provide CONTINUOUS vulnerability scanning, which is different than most tools, and provides advantages such as providing alerts when new devices show up on your network, critical vulnerability alerts, etc. Even though the scans are continuously, reports are archived into the dashboard for easy access. Furthermore, continuous vulnerability scanning is starting to be required by most compliance frameworks. Other key capabilities include:

Simple Setup: Easy to use solution with intuitive dashboard. With Mac, Linux, and Windows sensors available, it's easy to setup and begin scanning.​

Continuous Scanning: Continuously scan and monitor networks for new assets and vulnerabilities. Scans around-the-clock, even during business hours, with no impact to the network.​

New Device Alerts: Never miss the addition of a new device on your network, or the discovery of a new vulnerability. The system gives you real-time alerts for new devices and new, critical vulnerabilities so you're always up to date and protected.​

Reporting: Reporting includes comprehensive reporting capabilities. Users can also access an executive summary to share with others.​ Reports can be generated in various formats such as PDF, HTML and CSV.

Protect Entire Network: Performs scans on internal and external network as well as hybrid environment.
New Device Alerts
Critical Vulnerability Alerts
Low Network Utilization
Continuous Monitoring
On-Demand Re-scan
Individual CVE Reporting
Scheduled Reports
Agentless Scanning
Live Network Inventory
Real-Time Content Updates
Detailed Reporting
Internal Network Scans
Asset Inventory
OS-Specific Policy Scanning
The Detect IT Dashboard provides you with an overview of your current vulnerability assessment. The real time graph provides a score indicating your current rating. (The higher the score the better.)​

Assets Online: This number represents the total number of assets that are currently online as of the most recent inventory scans on your network(s). The number does not include the Externals configured to be scanned.​

Assets Scanned: This number represents the total number of assets, internal and external, that have been fully scanned.​

Assets Monitored: This number represents the total number of assets that have been identified over the current time range, including externals.​

Recent Alerts: Provides alerts of new devices as it occurs.
Ensure You're Properly Managing Third Party Vendor Risk
Use our free tool to better understand the environment and structure of your mission critical and major vendors.
Assets can be filtered by:​
IP Address​
MAC Vendor​
MAC Address​
Fingerprint​
Name​
Icons are displayed indicating the status such as:​
Critical vulnerabilities have been identified on this assets, or the score has dipped below 500.​
This asset has been seen during the last inventory scan.​
This asset has a ThreatAdvice agent installed.​
This agent has not reported in recently.​
This asset is being scanned without credentials.
Results:
By clicking on the "Results" you will be provided with the Risk Impact, Result Title, and Scan Type for each item. You can edit an asset giving it a name that will help you identify the asset. You can request a Rescan or Pause the scan. Detailed information is available by clicking on "Details".
Details:
The Details feature will provide you with the description, valuable information including the ability to document the Corrective Action. By adding a Corrective Action, you can assign it to a user and document notes pertaining to the correction process of the item. When a Corrective Action is assigned to a user an email notification will be sent to the assignee.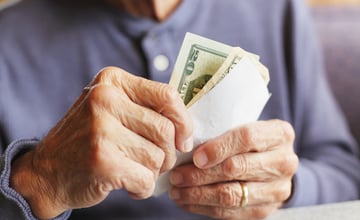 Elder fraud, also known as senior fraud or elder financial abuse, is indeed a concerning issue that has been growing rapidly in recent years. Elderly individuals are often targeted by scammers and fra...