October 18, 2022
Valley Hotel
Birmingham, AL
$95
Learn How to Protect Your Organization from Cybercrime
At ThreatAdvice, we love keeping you and your organization cyber safe, so you can face your biggest threat and protect your success. To that end, we're excited to announce our 2022 ThreatAdvice Cybersecurity Summit: a day of incredible content on cybersecurity best practices!
All sessions feature ThreatAdvice cyber experts, including:
Reducing Attack Surface
Any computer, application, or digital asset used to perform business tasks can be attacked. Threat actors continuously look for ways to exploit vulnerabilities in these assets. We can reduce the risk by reducing the number of attack vectors available to these actors.
Reenactment of a Cyber Attack
First, someone receives an email attack, an attack occurs. What happens next? The reenactment demonstrates the steps of a cyber attack.
How Important is an Annual Risk Assessment?
Knowing what to include in an Annual Risk Assessment is critical to the effectiveness of the assessment.
Cybersecurity Hygiene
Practicing good cybersecurity hygiene across an organization is vital in reducing risks. Making sure patches are applied, MFA enabled, no credential sharing, and having drive encryption enabled are a few key components to ensure your environment is squeaky clean and running smoothly.
What is a Security Information and Event Management (SIEM) Solution?
Protecting your home is important to homeowners. Protecting your entire network is important to all businesses. Having tools and services to detect and block security threats with real time analysis makes a business more secure.
Importance of Offsite Backup
The why and how of backing up your data offsite.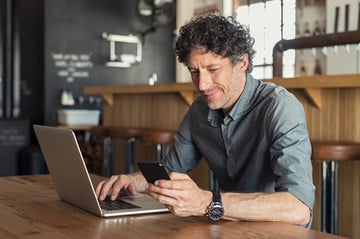 In today's digital age, financial fraud has become a prevalent issue, and check fraud continues to pose a significant threat to individuals and financial institutions alike. Attacks that target credit...